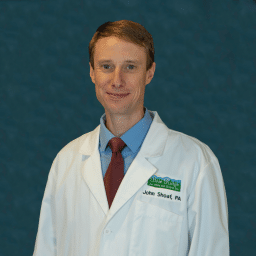 John Shoaf, PA-C
Physician Assistant
Mr. Shoaf joined Blue Ridge Ear, Nose and Throat in September 2022 as a Certified Physician Assistant. Mr. Shoaf grew up in Hickory, North Carolina and always stayed close to the area he loves. He moved to Winston Salem, North Carolina to pursue becoming a physician assistant after first graduating college.
Mr. Shoaf worked on his trade in the High Country providing health care to the community at Appalachian Internal Medicine, Blue Ridge Pediatric & Adolescent Medicine, High Country Proactive Health and Watauga Surgical Group. During his tenure serving Watauga County, Mr. Shoaf also served in the U.S. Air Force as a physician between 2010 and 2015.
Outside of the office, Mr. Shoaf enjoys spending time with his wife and their two children.
Undergraduate
University of North Carolina, Bachelor of Science (BS)
Graduate School
Bowman Gray School of Medicine (Wake Forest University, Master of Medical Science/Physician Assistant Training